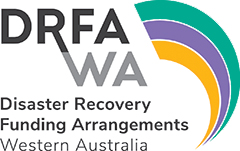 The Disaster Recovery Funding Arrangements (known as DRFAWA) commenced as of 1 November 2018. The new arrangements replace the Western Australia Natural Disaster Relief and Recovery Arrangements (WANDRRA).
Guidelines, Factsheets and Templates
The DRFAWA Guideline and set of Factsheets and Templates have been created to help communities understand the measures available and help asset owners understand the requirements when undertaking the restoration of essential public assets.
When does DRFAWA apply?
To be an eligible event, these criteria must be met:
A coordinated, multi-agency response is required
The cost of emergency assistance to individuals and communities, and/or damage to essential public assets, is estimated to exceed $240,000 (costs for the event as a whole - not costs for each local government impacted)
It must be a terrorist event or one of 10 natural disasters, including: bushfire, earthquake, flood, storm, cyclone, storm surge, landslide, tsunami, meteorite strike, or tornado.
DFES coordinates all communication with the Commonwealth and will confirm whether an event is deemed eligible.
Once an event is declared eligible, the Commonwealth issues a unique Australian Government Reference Number (AGRN) to be noted on all claims and supporting documentation.
Assistance measures available
The different funding options available under the DRFAWA are referred to as assistance measures. These are broken down into four main categories:
Category A – Emergency assistance for individuals. Category A measures are generally administered by the Department of Communities and local governments.
Category B – Emergency assistance for the repair of essential public assets and to support primary producers and small businesses to recover from a disaster event. Not all of the assistance measures offered by the Commonwealth are provided by Western Australian Government. There is, however, an additional assistance measure relating to fencing for primary producers that the WA Government does provide.
Category C – A community recovery package that is intended to support a holistic approach to the recovery of regions, communities or sectors severely affected by an eligible disaster.
Category D – Covers 'exceptional circumstances', in the opinion of the Commonwealth, to alleviate distress or damage.
Contact
For more information about DRFAWA:
DRFA-WA-Update 1 - Commencing 1 November 2018
DRFA-WA-Update 2 - Changes to LG road claims process
DRFA-WA-Update 3 - Asset Repair Working Capital - October 2018
DRFA-WA Update 4 - DRFAWA has Commenced
DRFA-WA Update 5 - EPAR Practical Guidance​​​​​​